Living Green, adapting to global changes, and reducing our ecological footprint are where it's at on an individual, community, and global basis. 
We must all do what we can to Living Green. Every little bit helps, and BC Sustainable Solutions is devoted to sharing resources, and developments relating to climate change, pollution solutions, water management, renewable energy, and other ways to consider when you are greening your world. Find inspiration and information regarding services, products, and technology to make your home, work, community, and your world into something that is healthy, eco-friendly, and economically viable. 
Find a wealth of links, data, and resources for Renewable Energy Topics including Water, Wind, Biofuel, Geothermal, and methods of Storing Energy. We live in exciting times as we continue to witness great innovations to help with the greening of our surroundings. The evolving field of alternative ways to generate and store energy is keenly observed and shared on this site and on BC Sustainable Solution's Facebook Page. For those who want to live in a more green way, we offer advice and where to go to achieve your goals. British Columbia Renewable energy abounds, so find out how you can operate your world sustainably and responsibly. Contact us at resources@bcsustainablesolutions.ca or call 647-354-5876.
Water Management seems like the issue of our times and you can be sure that we will keep an eye on developments regarding all aspects of water for the home, community, country, and world.  Whether we are cleaning it, gathering it, distributing it, defending ourselves against too much or too little, using it for energy, agriculture, and life in general, between this site and our social media, we will share as much pertinent information as we can about water. You'll find directories, blogs, and technologies that examine Flood Defense; Cleaning the Waters of the World; Distributing Water around the World; Ways to Purify Water; and Desalinating Water. 
Great strides are also being made in Pollution Control on a variety of levels. Air Pollution is an issue both indoors and outdoors. This site reviews what you can do on a personal level in your home, as well as at your workplace and in your community to go forward with Cleaning our Air as well as Cleaning our Earth. Green Building is a good place to start for Living Green.
Anything to do with earth-friendly interests is covered in our catch-all Resource Directories, so have a look and see what organization, group, or service provider suits your purposes right now.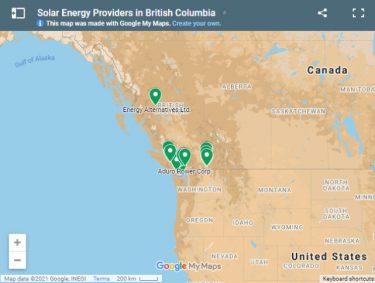 BC Sustainable Solutions wants to see cities covered in solar panels and is doing whatever it can to spread the word about this technology and where to access it. To that end, you'll find lots of links and information on our Solar Energy web page and in our article entitled: Solar Energy for the World.
Also see our Geographic Information System Map pinning Solar Energy Providers in British Columbia to make it easy to find Solar Power manufacturers, installers, resellers, and innovators serving BC.
You will also find ongoing updates regarding the seawater desalination resources, developments, projects, and more as we feel this is the answer to so many problems ranging from drought to the need for reservoirs to fight fires to the benefits of removing water from the sea or waterways during times of rising sea levels and flooding. See more on our webpage and article entitled: Seawater Desalination for the World.
As always, if you have information that you feel has a place on this site, contact us at resources@bcsustainablesolutions.ca and let us know.